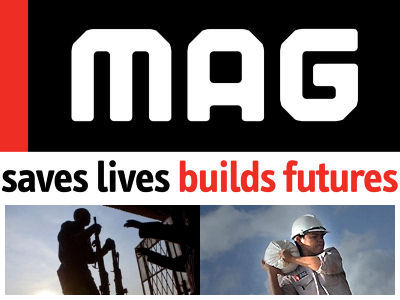 After a full month of voting for your favourite charity of 2009, the polls have now been closed and a winner decided...
MAG, The Mines Advisory Group
, really impressed us with their work around the world, helping to recover and assist the development of areas affected by conflict. MAG has worked all over the globe; in 35 countries since 1989, moving into current and former conflict zones to clear the remnants of those conflicts. And their excellent communication with us in 2009, tied with the 64% of votes that they received from our users, has made them our choice for
Charity Of The Year 2009
. We first heard about MAG when they wrote about an event in Redhill on our
forum
last September. We discovered it quickly and decided to promote it to our featured news section. We hope our article about the event helped contribute towards making the
5k/10k Military Run in Redhill
a successful event for MAG, and we're looking forward to hearing more about their future events!
We'll be keeping in contact with MAG throughout the year and working closely with them to help promote all their Surrey based events in 2010. The prize includes £1,000 worth of promotion featuring full
Surrey-Online.CO.UK
coverage with banner campaign and branding of our news sections!
We'd also like to thank all the other charities that got in touch with us in 2009 about their events in Surrey and we wish them all the best in 2010!
Posted By
Jamie Stuart