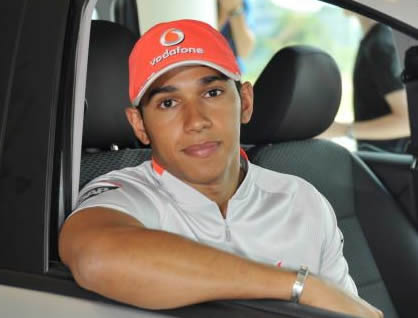 F1 Champion Lewis Hamilton is backing a new road safety scheme, initially to be offered to 5,000 pupils across Surrey, before being rolled out across the country. The former Formula One World Champion launched the scheme on Sunday, 6th December.
He said,
"It's a great thing for young kids to come here and at least raise awareness. Hopefully, they'll come here and they'll walk away with a little bit more knowledge which will equip them even better for when they take their own driving lessons and tests."
The educational scheme, called RoadSense has been developed by council, fire and police officers, with the Mercedes-Benz Driving Academy in
Weybridge
and will offer hands-on driving experience and training for pupils aged 14 to 18. The scheme will be offered to schools as an add-on to the existing curriculum and follows government campaigns to reduce the number of road deaths and injuries among children and young people. The course includes an hour-long introduction, a 90-minute practical session behind the wheel and then an hour-long discussion group where pupils will not only discuss the responsibilities of being a driver, but also of being a passenger and a pedestrian. Students will do the practical session in groups of three and have half an hour each on the track at Mercedes-Benz World, under the guidance of a Driving Academy Coach.
Wilfried Steffen, president of Mercedes-Benz UK, said it would help pupils to develop a responsible attitude to driving before they and their friends start to drive.
Posted By
Jamie Stuart