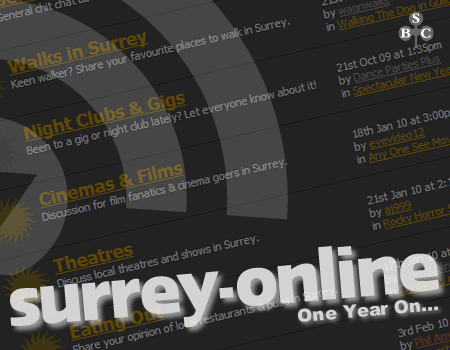 We've seen a lot happen in our first year. There's been a lot of fantastic events in Surrey and we did our best to bring them all to you, but there's no way we can do it all alone. We've had lots of comments, photos, and even some
local news stories posted by our users
to help promote local events or share important news and info with the whole community and we can't wait to hear more from you all in 2010! Hopefully this year even more people will join us to discuss and share information with fellow residents of Surrey!
Last year we brought you over 100 news items and invited you to discuss over 500 topics with more than 800 people in our
Surrey Forum
Back in February, Surrey-Online was about to go live when we encountered some of the heaviest snow in Surrey for almost 20 years! It was a delay for us, but also a great start to our website, giving us all something to talk about! Some of you posted your own photos and videos and it was a real treat to see them all!
Remember, it's never too late to share your own photos!
-
Surrey Snowed Under
In June we gave you a unique opportunity to speak directly with local political figures about the
2009 Elections in Surrey
and we were very happy with the great response from our users!
Our partnership with
SBC
continues to bring new opportunities for business owners in Surrey to network, promote themselves and engage in B2B & B2C activity. Surrey-Online is a big part of our network, but we've got even more!
Surrey-Discounts.com
is a website designed to display all Coupons and Special Offers from our business directory, and
SurreyBiz.net
is our Business 2 Business counterpart.
---
Everyone who contributes to Surrey-Online deserves a mention, but we've highlighted a few key members that stood out from the crowd in our first year!
Member Awards
Early Bird


eventhorizon
'First active user to join'
Forum Junkie


aj999
'Most forum posts'
Hard Worker


rogerheath (Quiz Walks - Walking Club)
'Most active Business/Organisation'
Posted By
Jamie Stuart