Fundraisers from Walton Take On London Marathon
POSTED AT 03:39 PM on 08/02/2010

Received 0 Comments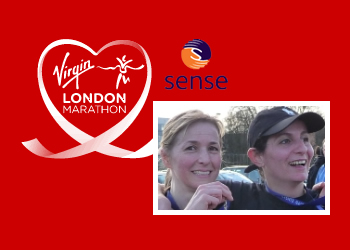 Chairty fundraisers, Clare Sheridan and Gina Navarro from Walton on Thames in Surrey have decided to run the London Marathon to raise money for deafblind charity,
Sense
UPDATE: Check out London Marathon photos
Sense is the leading national charity that supports and campaigns for children and adults who are deafblind. We provide expert advice and information as well as specialist services to deafblind people, their families, carers and the professionals who work with them. We also support people who have sensory impairments with additional disabilities.
The 26.2 mile race takes place on 25 April 2010. Founded in 1981, the London Marathon is the largest race of its kind in the world!
Gina:
"My friend and I have been talking about 'running a marathon' for quite some time. How shocked and surprised were we to find out a few weeks before Christmas that our place was accepted to run in this year's Virgin London Marathon..."
-
read more
or make a donation
Posted By
Jamie Stuart