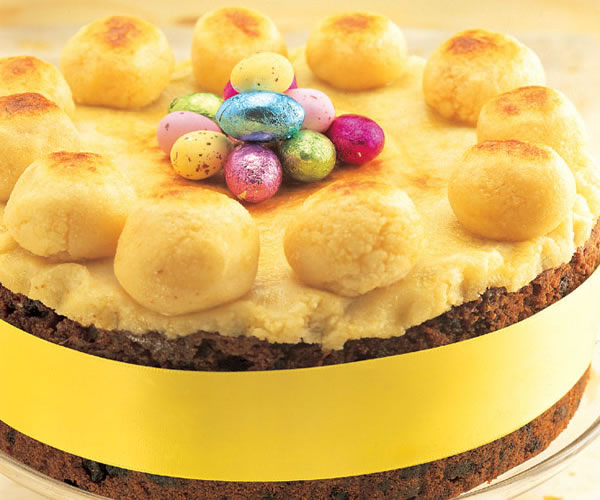 Mothering Sunday, or Mother's Day as it's commonly known, falls on the 14th of March this year so now that you know the date, there's no excuses for forgetting or being unprepared!
But what do I get, you ask? Well, did you know that Mothering Sunday is also known as Simnel Sunday because of the old tradition of baking Simnel cakes?? The Simnel cake is often associated with Easter these days, but they were originally made for Mothering Sunday, so why not surprise your Mum this Mother's Day by baking your very own Simnel Cake!
Simnel Cake Recipe
What you need
1 cup unsalted butter
1 1/2 cups soft brown sugar
4 medium eggs, beaten
2 cups plain flour
1/2 teaspoon baking powder
3 teaspoons mixed spice
1 teaspoon grated nutmeg
2 tablespoons corn flour
1 cup sultanas
1/2 cup currants
1/2 cup raisins
1/2 cup glace cherries, chopped
2 tablespoons ground almonds
grated rind of 1 organic lemon
3 tablespoons brandy
1 1/2 lbs marzipan
a little apricot jelly
Method
- In large mixing bowl cream the butter and sugar until light in colour and fluffy in texture.
- To this add the eggs a little at a time, beating well each time some beaten egg is poured in.
- If the mixture looks as if it is curdling add a spoonful of flour and beat in well.
- Stir in the dried fruit and the lemon peel.
- Sift the flour with the spices, corn flour and baking powder.
- Fold the flour mixture into the creamed mixture.
- Add the brandy, a little at a time.
- Do not allow the mixture to become too wet even if this means leaving out a little of the brandy.
- Spoon half of the mixture into a well greased 8 inch tin.
- Roll out the marzipan onto a board dusted with icing sugar.
- Roll out a circle of 7 3/4 inch diameter and place onto the smoothed cake mix in the tin.
- Cover with the rest of the cake mixture and bake at 170 degrees centigrade for about 2 1/4 hours.
- The cake should be firm to the touch and a golden brown colour.
- Turn cake from tin and allow to cool on a wire cake rack.
- Roll out the remaining marzipan and cut out an 8 inch circle.
- Stick this marzipan onto the top of the cake with a little melted apricot jelly.
- Roll the remaining marzipan into 11 equal balls and use these to decorate the top of the cake.
- Tie a decorative, traditionally yellow ribbon around the cake.
Posted By
Jamie Stuart