2009 Great British Duck Race another great success! We caught up with the ducks as they ploughed their way through Kingston Bridge - it was quite a sight to see!
Some 205,000 plastic ducks were loaded into Molesey lock in Surrey and launched down the Thames at 1:30pm on September 6th 2009, breaking a World Record recently set by Shanghai! Thousands of pounds were raised for many charities - each duck was sponsored by an individual and had it's own unique number printed on the bottom. The first duck across the finish line was recorded, and the winning duck's owner bagged £10,000! More prizes were awarded to the runners up. Check out the website for details of the winning numbers!
www.thegreatbritishduckrace.co.uk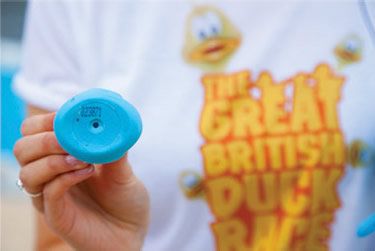 2010 ducks are now on sale with a monthly prize draw each month until the next Duck Day! Once you have adopted your ducks online you will automatically be entered into the online duck race, as well as the actual race along the Thames in 2010! A computer will select a duck number at random each month until the next Duck Day in 2010, and if your duck is picked, you win that months prize draw!
It's just £2 to adopt a duck, and you can also make an optional donation for each duck, which will go straight to the
NSPCC
.
Adopt a duck today!
Posted By
Jamie Stuart