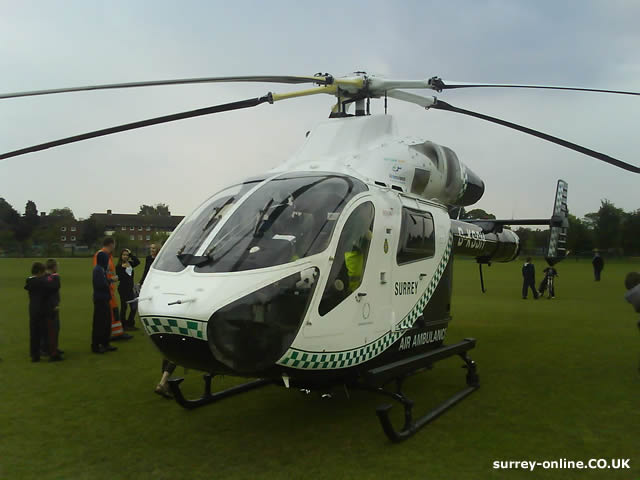 A surprise for local cricketers, when Surrey/Sussex Air Ambulance attended to an emergency in Walton High Street today (Saturday) landing in King's Park, Walton at 1.30pm.
Needless to say, helicopter didn't interrupt play!
We're always amazed by the skills of the people who are working on the front line of emergency. Most ordinary people simply couldn't bear the things that they experience on a daily basis.
So who are the people that perform these complicated procedures?
Some are statutory government-funded units, whilst some run on good will and a voluntary basis. But they all share the same ability to change our lives forever when we find ourselves in potentially life threatening situations.
During the summer months we will release stories and articles about people who come to the rescue when we are in need. We will show you how they work, what they do and how we can help these people to make their job less difficult. You will find information and links if you want to get involved or share you support. Sadly when kids are out of school for the summer we often hear about accidents involving young people and lack of supervision is often to blame - we are going to ask our local fire-fighters, paramedics and others what can be done to make Surrey a safer place for kids this summer.
Please join our
Safe Surrey forum today
Posted By
KK