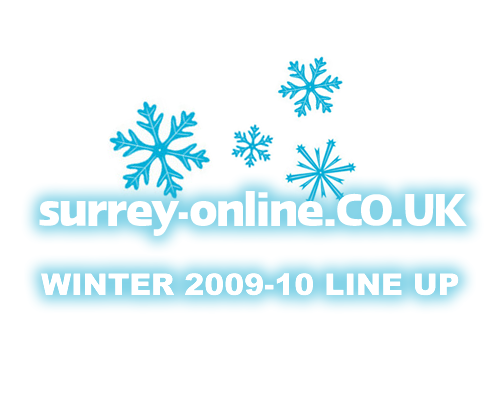 Update: 10/12/2009
HOT Winter Topics
Looking for Pantos in Surrey this Winter 2009-10?
-
Snow White Showing at Richmond Theatre
-
Beauty And The Beast Showing at The Harlequin Theatre
Looking for New Years Eve Plans in Surrey?
-
New Years Celebrations in Surrey
---
Update: 10/12/2009
Earlier we told you that we'd be choosing our
Charity Of The Year
this month.
VOTING HAS NOW CLOSED

- read more
It's been a couple of days since we announced the nominees and launched the polls, and some of our nominees have already received a lot of votes. But remember it's not all about votes! We'll be taking other criteria into consideration before we make our final decision. But if you want to show your support,
get voting for your favourite charity
because voting closes at the end of the month and we'll announce the winner in January, who'll receive a Surrey-Online.CO.UK promo package worth £1,000 to promote one of their events in the new year!
---
Update: 10/11/2009
Now that the festive season is well under way, there's a lot going on in the run up to Christmas & New Year, and it's a great time to get out and about;
providing you wrap up warm....

Christmas Markets in Surrey
are beginning to appear and almost everywhere you go is starting to put up Christmas decorations and lights that'll soon be switched on!
---
Know about any events happening near you this Winter?
Spread the word!
Join our Forum
and share your topics on the most popular online discussion board in Surrey! It's free, fun to use, and has over 500 active users and about 10000 visitors per month. So there's always plenty to talk about!
If you're an event organiser
we'd love to help you promote your event... You can add your event to any one of our
towns pages
using the
News Submission Forum
.
If you're a non profit Organisation
you can
apply
for a free Business Builder Max account worth £199/year!
Or if you're a regular business owner
who relies on Christmas,
Get Listed
with Surrey-Online and discover for yourself how it can benefit your business.
We're also holding some events of our own:
We're going to be choosing our Charity Of The Year 2009. You will be able to vote here when voting opens! Remember, the number of votes a charity receives are only part of what we will consider when deciding which charity should win but every vote still counts! Contact us to enter your Charity.

We will officially publish the results of our Charity Of The Year Awards in January 2010. The winning charity will receive £1000 worth of free promotion on Surrey Online

Posted By
Jamie Stuart